SPRINT® cable gland system
For more than 30 years our cable gland system has developed to a comprehensive, efficient and high-quality modular product range.

By using just one single size-dependent assembly tool, the four elements cap nut, sealing insert, optional EMC insert and fitting can be combined custom-fit to a SPRINT® cable gland with the easy 4-in-1 principle - material-independent in polyamide, brass and stainless steel.

SPRINT® offers from bend protection over external strain-relief, explosion-proof to the breathing alternative with VentGLAND® professional solutions for individual requirements.
Your benefits with the SPRINT®- System
Features of the SPRINT® series at a glance: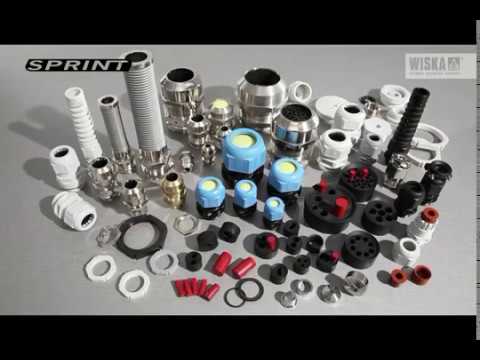 All cable glands, whether polyamide, brass or stainless steel, have identical clamping ranges and comply with highest demands by IP68 and IP69.
Our comprehensive range of accessories can be used either with metal or plastic cable glands. Items available include multiple, reduction and special sealing inserts.
PG, metric and NPT threads are in offer in different lengths.
The cable glands are applicable up to -60 °C.
Different sizes of EMC inserts can be fitted into the SPRINT® metal cable glands to provide electro-magnetical compatible installations. With the two types by earthing cone and contact spring insert the need to hold separate stocks of specialized EMC cable glands is now a thing of the past.
SPRINT® - The clever solution
With our innovative SPRINT® system, we can provide you with a variety of solutions for all application areas.
Ex-products in the SPRINT® range
The ex-cable glands by WISKA® are the perfect option for applications in hazardous areas, as they provide the optimal protection. In addition, WISKA® also supplies stop ends, adapters and enlargement adaptors up to cable glands with bend protection within the SPRINT® Ex product range.
Our products especially for hazardous areas are certified by ATEX and IECEx.
Pressure equalisation with Venting
Our Venting products provide optimum pressure equalisation to minimise the failure of technical equipment due to condensation. SPRINT® cable glands with this additional function ensure a pressure equalisation between the interior and the exterior provided by their air-permeable membrane that is resistant to UV, oils, grease and salt water.
Certified
Return to overview page